Water is one of the most destructive forces known to mankind. When your basement floods, the damage can be devastating but it is reversible. Incorrect exterior maintenance and a poor drainage system combined with the region's hilly terrain with the clay soil are a recipe for a wet basement.
There are four ways water enters your basement:
●  Through openings like doors and windows
●  Over the foundation wall, if the soil level or other material is built up above the wall
●  Between cracks in the foundation wall, regardless of the material used in construction
●  Through cracks in the basement floor or the cove between the floor and wall
Fortunately, the damage to your home and foundation caused by these issues can be repaired and prevented. FSRG provides several customized options at different price points to mitigate the issue from either side of the wall.
Our Basement Waterproofing Solutions
Interior Waterproofing System:
Interior waterproofing systems are a cost-effective and unobtrusive way to keep your basement dry.
While an exterior waterproofing system provides maximum protection for your home, an interior water control system won't do as much damage during installation and is guaranteed for life.
Installing this drainage system involves removing roughly one foot of concrete along the foundation wall. If the basement is already finished, FSRG will need to demo the space in the vicinity of the area being waterproofed. However, the only exterior alteration involves installing a sump pump discharge line.
This system also involves applying an interior waterproofing membrane from the top to the bottom of the basement wall. If water enters through cracks in the wall, the membrane directs it to the drainage system beneath the floor and prevents damage to the interior of your basement.
The interior drainage system discharges into a sump pump, which pumps water out and away from your home. This allows your basement and belongings to stay dry, storm after storm.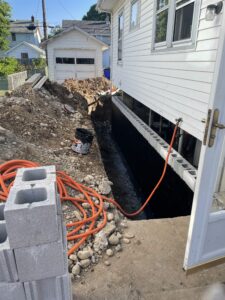 Exterior Waterproofing System:
Exterior waterproofing is the best and most common method to waterproof a basement. While an interior system will control water and is guaranteed for life, an exterior system provides maximum protection for your foundation. Waterproofing from the outside prevents water from ever contacting your foundation.
However, because this system is applied to the exterior of your home, it's also a more costly and intrusive option. FSRG won't need to demolish a portion of your finished basement, as we would with an interior water control system installation. We will need to temporarily remove things like landscaping, concrete, decking, A/C units, and anything else that surrounds your foundation. This extensive removal process is required to allow us to excavate to the bottom of the foundation footing.
Our exterior drainage system includes accessible cleanouts, allowing you to maintain your exterior footing drain system for years to come. Performing regular maintenance is crucial to extending the life of the system.
Sump Pumps:
Sump pumps are a great solution for homeowners in Greater Cincinnati dealing with our unpredictable weather and poorly draining clay soil. A sump pump is the deepest component of any drainage system and removes unwanted water from around your home, preventing damage to your basement and foundation. They help keep your basement dry and reduce the hydrostatic pressure created by water that builds up along the foundation.
Sump pumps sit below the surface of your basement floor in the bottom of a well. When installed correctly, the well collects ground water up to two feet below your foundation before it has a chance to cause damage. Using a motor, the pump discharges water collected in the well and distributes it away from your home. FSRG can incorporate a sump pump in many different solutions including interior or exterior drainage systems, downspout discharge lines, and French drain systems.
Sump pump technology has made great strides over the years. Today's sump pumps are more reliable than ever and are even required by new home building codes in some areas. They come in a variety of sizes and options from single stand-alone pumps to Wi-Fi-enabled or battery-powered backups.
FSRG can help you choose the right sump pump for your home and help protect your property from the devastating effects of water.
Window Well Drains:
Window wells are installed around windows that are below the surface of the ground. During periods of heavy rain, they have a tendency to fill up with water.
Without a way for water to escape the window well, it can seep through the window into your basement.
A drain installed at the bottom of the well will discharge the water away from your home and keep your basement dry.
Ready To Get A Quote?
Are you are in Indiana, Kentucky, or Ohio?
You can request a quote for your fix or make an appointment.
Request A Quote